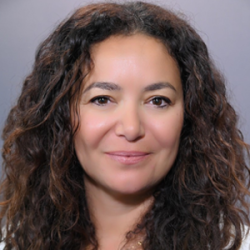 Advisor: Performance, E-sports and Broadcast Journalism, Emphasis: Broadcast Journalism
Phone: (415) 338-1528
Email: dibrahim@sfsu.edu
Location: Marcus Hall Building Room 341
Office Hours:
Mon:
1:00 p.m. - 2:00 p.m.
In-Person
Additional office hours available by appointment. Email to schedule an appointment.
Dr. Dina Ibrahim is a Professor of Broadcast & Electronic Communication Arts at San Francisco State University. After 12 years of reporting and producing in for BBC World Service Radio, United Press International, CNN & NPR, in 2003 she teaches radio and TV production, interviewing, audio & video talent coaching, live streaming, and esports. Her research interests include innovative content creation and distribution, identifying & countering Islamophobic content, and audience content consumption. Dr. Ibrahim identifies as a global citizen with Egyptian, American & British nationalities. She is the Executive Director of the CSU Entertainment Alliance, which connects entertainment and technology companies to diverse talent from California State universities.