Contact Information
Chair: Lena Zhang
Email: lzhang@sfsu.edu
Office Hours:
Monday 9 a.m.-noon; 1 p.m. - 5 p.m.
Tuesday 9 a.m. -11:30 a.m.; 2 p.m. - 6 p.m.
Wednesday-Friday 9 a.m. - noon; 1 p.m. - 6 p.m. 
Phone: (415) 338-1787
Email: beca@sfsu.edu
Fax: (415) 338-1168
Address:
San Francisco State University
College of Liberal & Creative Arts
1600 Holloway Avenue
Marcus Hall, Room 339
San Francisco, CA 94132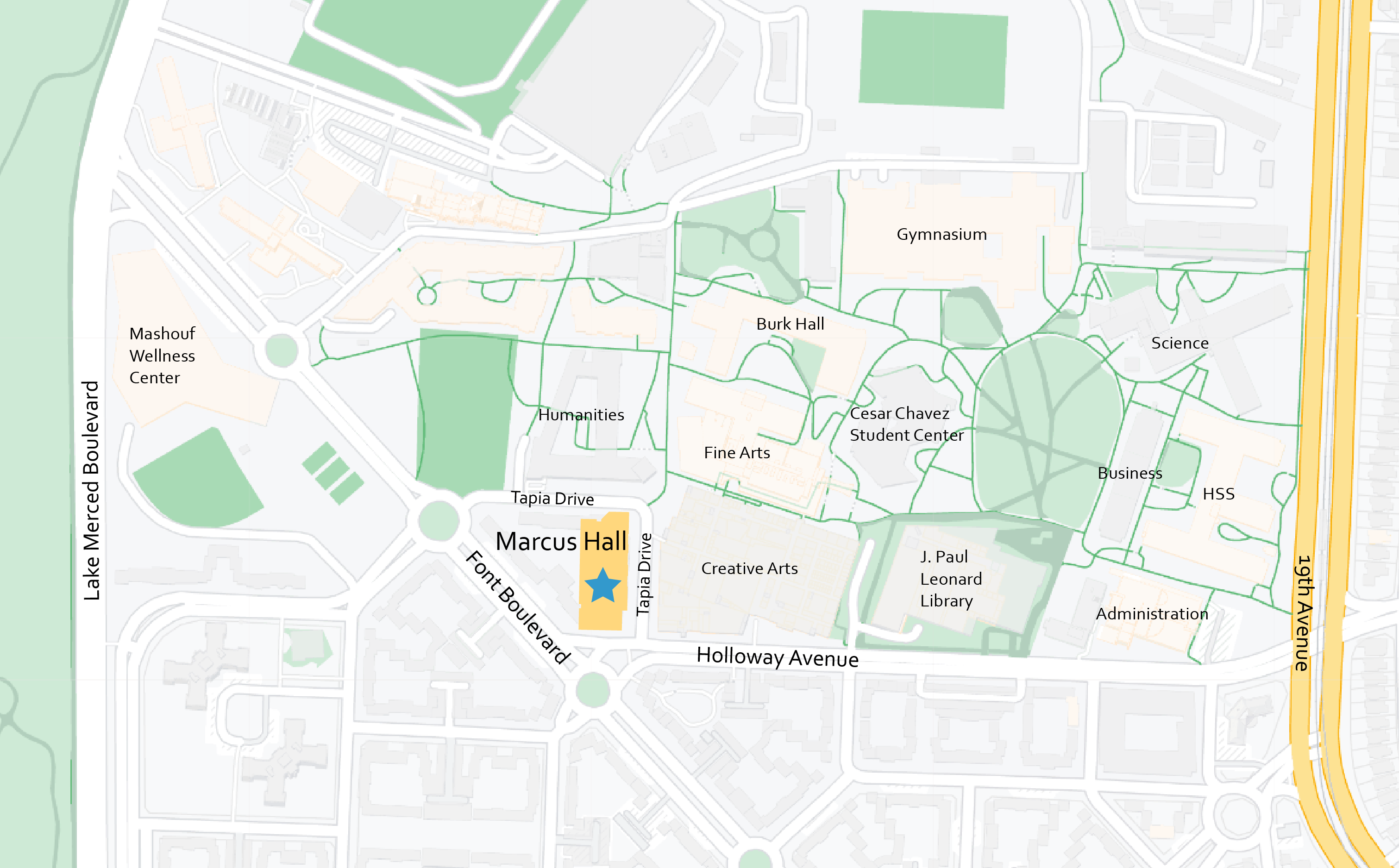 The Cage
Equipment Check-out
Located in Marcus Hall, Room 119
Phone: (415) 338- 2036
Hours: Monday through Thursday, 9 a.m. - 4:30 p.m.
Guided Tours
Students wishing to pursue a BECA degree - whether incoming freshmen, transfers from other colleges or universities, or prospective graduate students - are encouraged to contact the BECA Department.
To reserve a spot call (415) 338-1787 or email beca@sfsu.edu.
For tours of the San Francisco State University campus, please visit the Campus Tour website for details, schedules and services.
Transportation and Parking
San Francisco State University is readily accessible by public transportation from all parts of the Bay Area.
For general information, please visit the SF State Parking and Transportation website.
Getting to Campus
By Transit
BART: to Daly City, then MUNI 28 bus to SF State.
SF MUNI: M, 28, 29, 18, or 17 to SF State.
By Bike
Holloway Avenue or Lake Merced Boulevard are bike-friendly routes. Bike parking available on Tapia Drive and along 19th Avenue.
By Car
Highway 101 or Interstate 280 to 19th Avenue and Holloway Avenue.
Street parking is limited. During the week, paid parking is available on the Northwestern side of campus. If you plan to visit during the evening or weekend, there is a small 40-car paid parking lot on Holloway Avenue and Cardenas Avenue that is open to the public. Parking permits are $6.25 for two hours or $10.00 for the day. Pay stations are cash only and require exact change.
What's Nearby
Local restaurants and shops within a 30-minute radius.
WALK: Park Merced Plaza (Cambon Dr + Castelo Ave), Stonestown
BIKE or PUBLIC TRANSIT: Park Merced Plaza, Stonestown, Taraval, West Portal, Ocean Avenue
CAR: Park Merced Plaza, Stonestown, Westlake, West Portal, Lakeshore, Ocean Avenue, Glen Park, Mission