The Department of Broadcast & Electronic Communication Arts (BECA) Master's program is a premier program designed for students pursuing an advanced education in media arts.  This broad, theory-driven approach is designed to encourage students to think critically about the many facets of the media industry, the content they produce, and the impact it has on our culture and communities.
The M.A. program reflects a comprehensive view of the communication discipline with an integration of theory and practice. The curriculum is designed to provide extensive educational experience for those who intend to use the modern media of electronic and digital communication to serve the artistic, cultural, educational, and informational needs of society. Students are expected to work successfully in theory and practice courses and activities. Graduates of the program are prepared for work in a range of media-related industries. 
While the program is theory driven, M.A. students have the opportunity to focus on a range of interest areas, including media aesthetics, audio and video production, news and documentary, interactive media, writing, management, and communication theory and criticism.
We are pleased to announce that the Department of Broadcast & Electronic Communication Arts (BECA) at San Francisco State University is now part the Western Regional Graduate Program (WRGP) which enables students in 16 Western states and territories to enroll in participating public graduate programs as nonresidents, yet pay the lower resident tuition rate.
Complete degree requirements for the Master of Arts in BECA are available from the SF State Bulletin.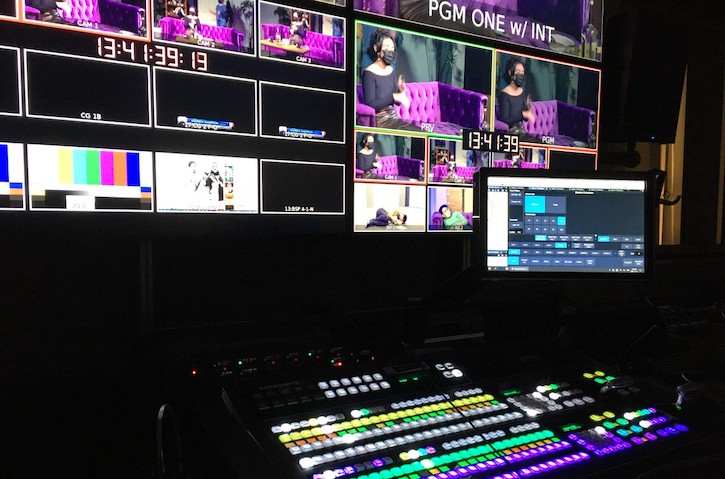 BECA Master's Degree candidates must complete a MINIMUM of 30 units of coursework, including core requirements, elective requirements and the culminating experience.
Pre-requisites
Students who do not have an academic background in media may be required to take up to 14 units of undergraduate coursework as prerequisites. This is determined upon consultation with the graduate coordinator. It can include core courses, such as BECA 200 (Intro to Broadcast) BECA 340 (Media Aesthetics), and one introductory production sequence in audio (BECA 231/231) or video (BECA 240/241). Students who choose a creative project involving production as their culminating experience may be required to take both audio and video production sequences. These prerequisites may not be used as part of the Advancement to Candidacy (ATC). These prerequisites should be discussed with the Graduate Coordinator prior to enrolling.
Coursework Requirements
I. Core requirements: (15 units)
BECA 700: Introduction to Graduate Study (3 units)
BECA 701: Formula and Creativity in the Public Arts (3 units)
BECA 702: Ethics and Responsibility in the Electronic Media (3 units)
BECA 706: Seminar in Media Aesthetics and Production Theory (3 units)
BECA 822: Seminar in Media and Society (3 units)
II. Electives: (12 units)
Electives must be approved by the graduate advisor. Advanced undergraduate-level courses and courses taken from outside the major may be taken if it is considered complementary to the candidate's area of specialization.
III. Culminating Experience: (3 units)
Students must select one of the following:
BECA 896 EXM: Culminating Experience Examination 
BECA 898: Thesis (*Requires enrollment in BECA 897 as a prerequisite, which may be used for up to 3 units of elective credit.)
Students who pursue the master's thesis option must complete a written master's thesis, a scholarly document that reports on some kind of original research. The research builds upon theory, and addresses one or more research questions or tests one or more hypotheses. Research questions or hypotheses reflect a scope appropriate for M.A. level work. Research methods are selected for their appropriateness to the question or problem at hand. *Requires enrollment in BECA 897 as a prerequisite, and may be used for up to 3 units of elective credit.
Graduate students are accepted to the BECA M.A. program once a year for Fall matriculation.  We are currently not accepting applications for the Spring semester.
The Department of BECA Graduate Admissions Committee meets three times to review applications for the Fall semester:
Applications that are completed by February 1 are considered in the first round of reviews.
If seats remain available in the program, the committee will consider applicants who complete their applications by March 1.
During the final meeting, the Graduate Admissions Committee will consider applicants who complete their applications by April 15, subject to space availability.
Applications to the BECA M.A. program must be submitted through CalState Apply for consideration. Applicants must meet the minimum university GPA requirement of 3.0 and submit the transcript information as requested. International students whose dominant language is not English must also submit their TOEFL, IELTS, or PTE scores, as required by the SF State Graduate Division.
In addition, applicants must submit:
A Resume/CV
Resumes should demonstrate some academic and/or practical experience that can potentially complement your studies while in the program, or reveal certain skill sets and competencies that indicate the potential for successfully completing the program.
Personal Statement (500 words)
The personal statement should address how the M.A. program will help her/him/they accomplish their academic and professional goals should be articulated here. It should also address the ability to engage in advanced theoretical work. Applicants with an interest in production must discuss how theory will inform their work. Those who do not have a background in media or communication must also articulate how this program ties into their academic or professional background.
Recommendation Letters
Letters should (ideally) evaluate the applicant's ability to do advanced theoretical work and her/his/they ability to write at the graduate level.
A minimum of two letters of recommendation are required, but three are preferred
Letters should be from a faculty person or someone who can speak to an applicant's production, research, teaching or creative practice.
Writing Sample (500 words)
Applicants must provide a writing sample that demonstrates her/his/they ability to write at the graduate level. This sample can be the same as the personal statement. They may also submit a sample from a research paper, or an example of creative work (script, blog, creative story, essay, etc.)
Current Graduate Record Examination (GRE) scores are encouraged, but not required
Scores must be submitted to both the University and the department. A minimum GRE Analytical Writing score of 4.5 is one method students may meet the department's graduate writing requirement. However, the GRE does not serve as a substitute for the writing sample.
Transcripts of all previous college work
Applicants must upload legible unofficial copies of transcripts from each college or university attended. This includes study abroad coursework, or community college coursework, even if this coursework appears as transfer credit appears on your degree transcript. Full academic disclosure is required.  Photographs or screenshots of transcripts will be rejected. An incomplete academic history will significantly delay the review of your application. The Division of Graduate Studies may request official transcripts from you at any point during the application review process. Applicants selected for admission will be required to submit official transcripts to the Division of Graduate Studies in order to secure your offer of admission.
Questions? Please contact Dr. Melissa Camacho, Graduate Coordinator, by email at mcamacho@sfsu.edu.
Admission Policies and Procedures
Read the SF State Introduction to Graduate Studies
Ready to Apply?
Questions?
Please contact Dr. Melissa Camacho, Graduate Coordinator, by email at mcamacho@sfsu.edu.