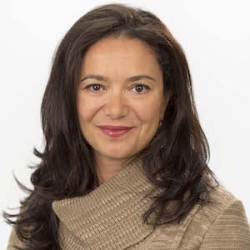 Advisor: Performance, E-sports and Broadcast Journalism, Emphasis: Broadcast Journalism
Phone: (415) 338-1528
Email: dibrahim@sfsu.edu
Location: Marcus Hall Building Room 341
Office Hours:
Mon:
1:00 pm - 2:00 pm
MH 341
Dina Ibrahim is a Professor of Broadcast & Electronic Communication Arts at San Francisco State University, where she has been teaching radio and television news production since 2003.
She has reported and produced for the BBC World Service Radio in London, United Press International in Cairo, CNN in Atlanta, NPR in Austin, KPOO 89.5 FM in San Francisco and ArabicTV in San Jose.
Her research interests include the psychological impact of television news, the role of Egyptian journalists in the post-revolutionary transition to democracy, and analyzing American television representations of Muslims and Arabs.
Office hours also by appointment via Zoom