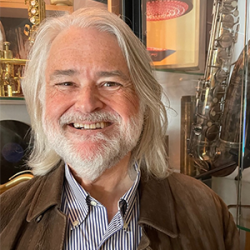 Scott Patterson
Professor
Advisor: Broadcast Electronic Communication Arts Research, Emphasis: Broadcast and Electronic Communication Arts Research
Phone: (415) 338-6172
Email: spatters@sfsu.edu
Location: Marcus Hall Building Room 363
Face-to-Face Drop-In Office Hours:
Monday 3:45 pm - 4:45 pm
Tuesday 10:00 am - 11:15 am
Online By Appointment Office Hours:
Tuesday 11:15 am - 12:15 pm
Tuesday 2:15 pm - 3:15 pm
Schedule an appointment: https://sfsu.campus.eab.com/pal/GKMeUuJ2AC
My broad interests are audio media, interactivity, and questions of access to the global information infrastructure.  I have released over 100 recordings of performers that range from B.B. King to the Tokyo String Quartet to the Seldom Scene to the U.S. Marine Corps Band.  I am writing this semester about how the digital divide changes in unusual ways when we consider the role of "Nomadism."  I am interested in the use of case studies as evidence.  I am thrilled to be teaching two of my favorite courses in the BECA Department – BECA Research Methods & The Age of Information.  I currently serve on the Ballot Simplification Committee for the City and County of San Francisco where I am responsible for writing the "a yes vote means" and "a no vote means" ballot digests for all the San Francisco initiatives on the ballot.  Be sure to vote!  I am a member of the National Academy of Recording Arts and Sciences, the National Academy of Television Arts and Sciences, and the International Communication Association.