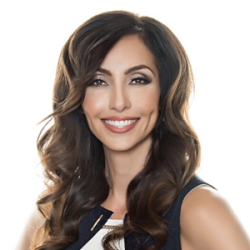 Rosemary Orozco
Lecturer Faculty
Emphasis: Broadcast News and Performance
Email: rosemaryorozco@sfsu.edu
I've been in the TV News business for more than two decades and I can't imagine doing anything else! My work is fulfilling and fun. I feel so blessed to be able to share my passion and experience with all of you.  
I've always had an interest in news. That, along with my fascination in current events led me to an education right here in the BECA department at SFSU. I was hooked! It was exciting and rewarding. Right after graduation, I began my career as a TV news anchor and reporter. Later I attended MSSU for Meteorology. My career path has also included positions as a Radio news anchor, TV traffic reporter, TV California Lottery announcer, and TV show host. 
My job is never dull; I could be at the front lines of a major wildfire one day, reporting on a major sporting event the next day, and meeting the President of the United States the next. These experiences are all amazing for different reasons. They have all played a role in the person I am today, including the privilege of receiving an Emmy Award for "Breaking News" coverage. 
I'm living my dream and look forward to helping you accomplish yours!