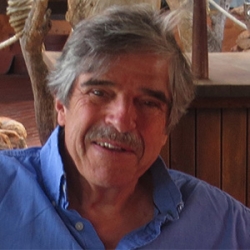 Phil Kipper
Emeritus Professor
Emphasis: Visual Communication and Media Aesthetics
Professor Emeritus Phil Kipper was chair of the Broadcast & Electronic Communication Arts Department from 1995 to 2006. During that time the department took major steps toward conversion to digital production technology, hired 13 tenure-track faculty members, and formed its first industry advisory board. Under Dr. Kipper's leadership, the department mounted a fund raising campaign that brought nearly $1.8 million in resources to the program.
Dr. Kipper received his B.A. in Political Science from the University of Washington, his M.A. in Radio and Television from San Francisco State University, and his Ph.D. in Communication from the University of Utah. Before joining the BECA faculty in 1987, he taught for five years at Mills College, Oakland, California, where he was coordinator of the Communication Program.
Prior to his academic career, Dr. Kipper worked as a reporter for the Wenatchee, Washington, Daily World and the Seattle Post-Intelligencer and was a news contributor to National Public Radio. As aerospace editor for the Post-Intelligencer he reported science and technology news related to the first moon landing and covered the development and first flights of the Boeing 747. He later joined the staff of Sunset Magazine as an editor and writer where he contributed major articles on travel, the environment, and recreation.
Dr. Kipper's main BECA teaching assignment was writing for the electronic media and media performance. He proposed a number of new classes, including the Broadcast Interview, Writing for Interactive Electronic Media, graduate-level Writing and Performance, and Television Dramatic Writing. Scripts written by students in his classes earned national writing awards and were produced for airing on local television. Dr. Kipper's research interests include the emerging synthesis of television and computers and media aesthetics and visual communication.
He has presented more than 25 papers on these subjects at meetings of the Broadcast Education Association, the National Communication Association, the Western States Communication Association, and at the Annual Conference on Visual Communication. His scholarly work has been published in the Journal of Broadcasting and Electronic Media, Communication Quarterly, Television Quarterly, and Feedback. Dr. Kipper served for three years as editor of Feedback, a publication of the Broadcast Education Association. He regularly reviews manuscripts for the Journal of Broadcasting and Electronic Media and for major publishers of electronic media texts.
He continues his interest in the study of cognition, memory and visual media. Since retiring, Dr. Kipper's activities have included volunteer work as a patrol boat skipper for the environmental organization Baykeeper and service on the Education Committee of the National Academy of Television Arts and Sciences, Northern California Chapter. He and his wife Sally have traveled extensively in Europe and in 2013 they spent four weeks in Africa visiting Rwanda, Zimbabwe, Botswana, and South Africa.