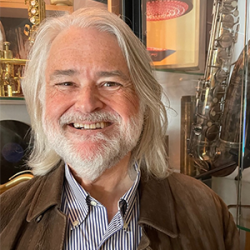 Scott Patterson
Professor
Advisor: Broadcast Electronic Communication Arts Research, Emphasis: Broadcast and Electronic Communication Arts Research
Phone: (415) 338-6172
Email: spatters@sfsu.edu
Location: Marcus Hall Building Room 363
Office Hours:
Tue:
10:00 am - 1:00 pm
Face-to-Face Drop-In
Wed:
12:30 pm - 2:30 pm
Online By Appointment
My broad interests are audio media, interactivity, and questions of access to the global information infrastructure. I have released over 100 recordings of performers that range from B.B. King to the Tokyo String Quartet to the Seldom Scene to the U.S. Marine Corps Band. I am writing this semester about how the digital divide changes in unusual ways when we consider the role of "Nomadism." I am interested in the use of case studies as evidence. I am thrilled to be teaching my favorite course in the BECA Department – BECA Research Methods.  I'm also teaching a new-to-me class in what makes us think radio and audio media are an art – Aesthetics of Sound.  I currently serve on the Ballot Simplification Committee for the City and County of San Francisco where I am responsible for writing the "a yes vote means" and "a no vote means" digests for all the San Francisco initiatives on the ballot. Be sure to vote! I am a member of the National Academy of Recording Arts and Sciences, the Academy of Television Arts and Sciences, and the International Communication Association. Scott is recognized as an Alex Trebek Legacy Fellow by the Television Academy.