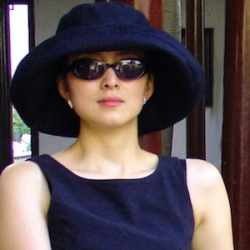 Lena Zhang
Professor and Department Chair
Advisor: TV Field Production and Editing
Phone: 415-338-1780
Email: lzhang@sfsu.edu
Location: Marcus Hall Building Room 339C
Office Hours:
Tue:
2:00 p.m. - 3:00 p.m.
MH 339C
Lena Zhang is a professor at San Francisco State University in the Department of Broadcast & Electronic Communication Arts, where she has been teaching since 1999. She has the primary teaching in media aesthetics, Digital media, video field production, and Corporate & Institutional Video Production. She had been a Yale University visiting scholar at Digital Media Center of School of Arts and Architecture in 1998.
Before teaching she worked as the producer and editor for a variety range format of programs including documentaries, TV commercials, PSAs and educational programs. Actively engaged in her profession, she had served as an academic member of Academy of Television Arts & Science (ATAS) and a member of Board of Directors at Broadcast Education Association (BEA). She is a board member of Hollywood College Advisory at Hollywood Creative Connection, a consultation company providing analysis and career consultation for young writers, directors and actors at the college level. She has been a program Consultant for U.S. Information Agency (USIA) for its international Radio/TV programming since 2006 and a media consultant for International Telemedicine Networks (ITN) since 2008.
Dr. Zhang's research areas include international communication, multicultural communication and health. She has published a series of primary researches in international media audience research, new media policies, and impact of cancer prevention media. With series of cancer research training at National Cancer Institute and a Cancer Researcher Training certificate from Stanford University, she has worked on a wide range of research projects with medical practitioners in cancer prevention and outreach as well as tobacco cessation diet/nutrition, and obesity. Her numerous projects with medical researchers at UCSF have been funded by National Institute of Health (NIH) and National Cancer Institute (NCI).