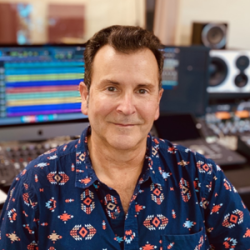 Len Haynes
Lecturer Faculty
Emphasis: Media Studies, Audio Production, Video Production
Email: lhaynes@sfsu.edu
Location: Marcus Hall Building Room 357
Office Hours:
Thu:
10:30 a.m. - 12:30 p.m.
In-Person or Zoom
If you require a personal Zoom meeting, please send me an email before Professor Haynes's weekly office hours for a Zoom link.
Len Haynes brings over 30 years of audio production and music industry experience to San Francisco State University. Len has had a long career as a music producer, recording engineer, songwriter and electronic musician based in Los Angeles. Over the decades, Len has recorded/ mixed, collaborated, produced and/or performed with an eclectic variety of musical artists including: Lydia Lunch, Nik Turner (Hawkwind), Damo Suzuki (CAN), Simon House (David Bowie, Hawkwind), Brainticket, DJ Me DJ You, Nels Cline (Wilco), and Gary Numan among others. His songwriting compositions have been featured in various television shows and motion pictures worldwide including: Queer Eye (2005), The Babysitters (2007), and Ocean's 8 (2018) to name a few.
Len also teaches courses in audio production, video production, multi-camera television production, mass communication, media literacy, and mass media research at Sonoma State University, Santa Rosa Junior College, and Los Medanos College. He holds a Master of Arts and a B.A. in Broadcast and Electronic Communication Arts from San Francisco State University, as well as an Associate of Arts in Cinema/TV Production from Los Angeles City College.