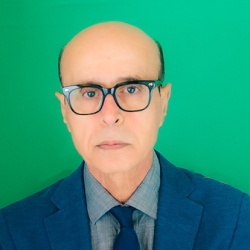 Advisor: Media Aesthetics and Production, Creativity and Design Thinking, Media Literacy, Emphasis: Media Aesthetics and Production and Creativity and Design Thinking
Phone: (415) 338-1347
Email: hkhani@sfsu.edu
Location: Marcus Hall Building Room 325
Professor Khani is on sabbatical for the Fall 2023 semester.
Hamid Khani, Professor of Broadcast & Electronic Communication Arts at San Francisco State University, is an accomplished media producer-director, educational consultant and curriculum designer. For more than 25 years, Dr. Khani has worked with an array of communities, government agencies and nonprofit groups to design, produce and direct media projects. Dr. Khani has produced and directed public service announcements, fictions, and documentaries covering topics ranging from science education and environmental issues to media literacy.
Professor Khani teaches all levels of Media Aesthetics, foundation, advanced, and seminar courses. He developed and teaches Creativity and Design Thinking for Media course. Among other courses, Professor Khani teaches Advanced Media Production, producing variable genres to promoting social branding, issues of environmental concerns and literacy. Most recently, Professor Khani has been teaching Aerial (Drone) Imagery Operation and Aesthetics a drone course which he developed in 2016.
Professor Khani's research concerns issues at the intersections of aesthetics, media framing and narratives. His focus is on the ways that media linguistic practices shape and influence the dominant narrative and how they facilitate and promote hegemony as a norm.
Stemming from his teaching philosophy, the overall theme of Dr. Khani's classes are the ways that aesthetics and creativity theories and concepts could facilitate social justice, equity, diversity and critical thinking forming cultural constructs and the values needed to become a responsible global citizen.