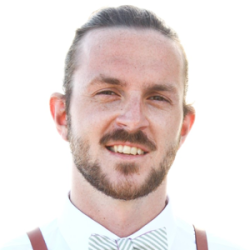 Graham Carpenter
Assistant Professor
Focus: Television Production
Email: gcarpenter@sfsu.edu
Location: Marcus Hall Building Room 345
Office Hours:
Tue:
11:00 am - 12:00 pm
In Person
Wed:
11:00 am - 12:00 pm
In Person
Graham Carpenter is Assistant Professor in the Department of Broadcast and Electronic Communication Arts (BECA). With a focus on the intersection of media technologies and communication, Carpenter investigates how and why people use imagination and media to relate to one another as well as themselves through a media psychology perspective. His recently published work looks at imagined interactions and mobile/online dating apps.
In addition to his scholarly activities, Carpenter over fifteen years of experience in live broadcasting in sports and entertainment for networks such as ESPN, ABC, NBC, CBS, TNT, FOX, etc. and his camerawork is currently featured on the 14th season of the reality television program, American Ninja Warrior. He was recently part of a group awarded with the "Most Outstanding Technical Team Event" Emmy for camera work performed on the College Football National Championship that aired on ABC in January of 2022.
Carpenter earned his doctorate in communication and information sciences with a focus on media studies and relational communication at the University of Alabama.