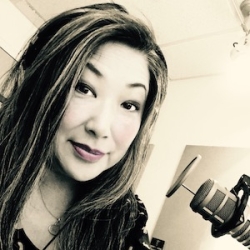 Elaine Leung
Lecturer Faculty
Emphasis: Radio and Podcasting
Email: elaineleung@sfsu.edu
Location: Marcus Hall Building Room 347
Office Hours:
Wed:
2:30 p.m. - 3:30 p.m.
MH 347
Additional office hours available by appointment via Zoom. Email to schedule an appointment.
Elaine is a San Francisco native and proud San Francisco State University BECA grad! She went to nearby Lowell High School, where she wrote for the student-run newspaper, "The Lowell." Dissatisfied with always being assigned the gossip column, the teacher suggested Elaine join a radio program called Youth Radio, then run by KPFB (which was part of KPFA). Elaine was hooked!
Elaine took KSFS and learned everything audio and broadcast news-related while at SF State. She started her first paid job while in school as a PA for KCBS and as a talk show producer at KMEL. She was offered her first full-time gig before she graduated as News Director at KMEL as part of the "Sway & the Breakfast Club" morning show; she went by the name of Fly Girl E and would later report from a helicopter. Since then, Elaine has been the News Director/Morning Side Kick with "Fernando in the Morning" at the former Z95-7 and has been doing news and traffic on various morning shows over the years, including 99-7 Now, the former KFRC, former KDFC, and has reported from Chopper-5 for KPIX-TV, and as SKY-3, SKY-5 and traffic reporter at KCBS over the years.
Elaine works for Total Traffic & Weather/iHeart Media. You can hear her doing traffic and weather on iHeart stations and she fills in on KQED doing traffic. She also does traffic on "Amber & Tanner in the Morning" on Froggy 92.9, and morning news on K-Hits 107.9. Elaine also writes news copy for her company's affiliate wire, which includes NBC News Radio, and contributes to iHeart's Business News.
When Elaine is not working, you can find her cooking up a storm or working on her '69 Bug, named Klaus (named after the lead singer of the Scorpions).
But above all, Elaine enjoys teaching and sharing radio/podcast knowledge with students so they can be well on their way to becoming successful broadcasters who will help shape our evolving industry.