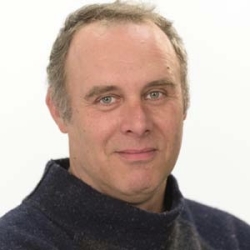 Misha Antonich
Lecturer Faculty
Emphasis: Video Editing
Email: mantonic@sfsu.edu
Location: Marcus Hall Building Room 347
Office Hours:
Fri:
11:00 a.m. - 12:00 p.m.
MH 347; by appointment; in person and zoom
Misha Antonich has been tenured at CCSF since fall 2011. He's been teaching at San Francisco State University since fall 2013. He previously taught at SF State from 2004-2005.
Misha Antonich was raised bi-culturally/bi-lingual by American parents in Germany and spent his teens and twenties living between Heidelberg, Munich and Berlin.
In the 1990's, after spending an intermittent teen year in Ft. Collins, Colorado, he caught the "acting bug" and returned to Berlin, auditioned and won a place in the Theater Arts school, "Die Etage," where he completed the three-year dramatic acting program and gained "equity" in Germany allowing him to work in stage and film productions. Most notably, he worked with the German/English theater troupe the "Berlin Play Actors" and appeared in the early seasons of the daily soap, "Gute Zeiten, Schlechte Zeiten" ("The Young and The Restless" in German, however the content is pretty cringe worthy). Concerned about his financial and personal future, he detoured and trained to be a shipwright carpenter journeyman - and loved the experience though he declined to pursue it as a career.
He then rediscovered his passion for communications, ensemble work and the arts and approached it from a different angle this time: media production (specifically audio/visual media, video and digital media) in the late 1990's. He moved to the city of his birth, San Francisco and started studying video and media production, remaining committed to the craft in SF State's BECA program. He deeply valued and thoroughly enjoyed studying toward his Bachelor's of Arts (B.A.) there, but things really took off for him once he entered BECA's Master's program (M.A.). Upon graduation, he was sincerely humbled to have been selected to be his year's outstanding graduate student of the department.
Alongside his academic pursuits, Misha worked consistently in a long-term position (six years) as a video assistant and later full editor for the live music video production company MX Entertainment in San Francisco. He cut his teeth and many videos on acts such as the Rolling Stones, the Who, Ween, Rush, Usher, (lil) Bow Wow, Herbie Hancock, Kiss, Los Lobos, Reggae on the River (Various artists) and many other artists.
In early 2006, Misha accepted a teaching job offer and, along with his wife and son, headed off to Busan, South Korea to teach video editing, visual effects and video production as a guest professor at Kyungsung University for three semesters. It was a great experience, full of wonderful people and encounters that he hopes he'll be able to rekindle in the future.
Misha returned to San Francisco in 2007 and was invited to join the Broadcast and Electronic Media Arts Department (BEMA) at City College of San Francisco, where he received tenure in 2011. At City College, he's overjoyed to be working with and alongside talented media students and colleagues. He mainly teaches video production (studio and field), editing (introduction and advanced), motion graphics, digital media skills classes. He's also happy to be teaching classes at his alma mater SF State (video editing and motion graphics) since Fall 2013.
Associations:
Misha was the advisor to C3 Media Club - CCSF's first media producer club focused on video editing.
Co-creator of the CCSF "Festival of the Moving Image", a yearly theatrical showcase of student work.
In the industry, Misha works as an editor, animator, producer and technical director for local media agencies.
As time allows, Misha relishes working with others on personal and artistic projects and has participating in a growing number.
My interest include: TV, Video, Film, Animation, Editing, Hiking, reading, conversing, computing.
Degrees:
Associates of Arts (A.A.) - 1989 University of Maryland (European Division - Munich Campus)
Theaters Arts Degree (Stage Equity Germany) - 1993 "Die Etage" (Berlin Theater School)
Bachelor of Arts (B.A.) - 2002 San Francisco State U. - BECA/TV & Radio (San Francisco)
Masters of Arts (M.A.) - 2004 San Francisco State U. - BECA/TV & Radio (San Francisco)