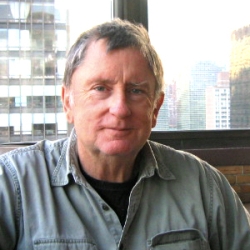 John Hewitt
Emeritus Professor
Emphasis: Documentary Theory and Production, Broadcast Journalism Theory and Production, and International Broadcast Systems
John Hewitt has been producing, editing and shooting documentaries for four decades. His films have been shown on PBS and commercial television and in film festivals throughout the United States.
His credits include: America's Chemical Angels, the story of drug treatments for childhood ADHD; Landmines of the Heart, a probe into political reconciliation in Cambodia; A Passion for Horses, one woman's drive to raise championship horses; Staying Lost (and found) in Bahia, exposing the tension between ex-pats and Mexicans in one small village; The Summers of the Amigos, exploring both sides of the work of international community development programs; and Tremors in Guzman, uncovering political unrest in a central Mexican city.
He taught documentary production at San Francisco State University and his textbook: Documentary Filmmaking: A Contemporary Field Guide (Oxford University Press, 2009), co-authored with University of California professor and documentarian Gustavo Vazquez, is used in universities throughout the United States.
John Hewitt is Professor Emeritus in the Department of Broadcast and Electronic Communication Arts at San Francisco State University.
His documentaries include:
2010 Deadline Every Second (60 min), Co-producer and Editor.
2005 Smokestack Lightnin':The Life of Howlin' Wolf (60 min), DP & Director. Slated for PBS.
1999 Landmines of the Heart: Cambodia's Struggle for Reconciliation (60 min), Co-director, co-producer, writer and editor. For PBS Plus, KQED.