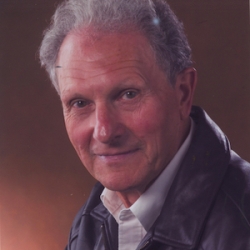 Herb Zettl
Emeritus Professor
Emphasis: Media Aesthetics, Video Production, and International Broadcasting
Herbert Zettl, Ph.D., taught for 40 years in the Broadcast and Electronic Communication Arts Department at San Francisco State University. His research emphases were, and still are, media aesthetics and video production. In fact, he wrote the book on it.
Herbert Zettl, PhD, is the author of Sight Sound Motion: Applied Media Aesthetics, Television Production Handbook, Video Basics, and the interactive DVD, Zettl's Video Lab. All his books have been translated into several languages and are used world-wide.
While at San Francisco State University, he headed the Institute of International Media Communication, and was a frequent lecturer at universities and television centers in various countries.
For his teaching, he received the California State Legislator Distinguished Teaching Award and the national Distinguished Education Service Award of the Broadcast Education Association.
For his contribution to the television profession, he was inducted into the Silver and Gold Circles of the National Academy of Television Arts and Sciences, Northern California Chapter.