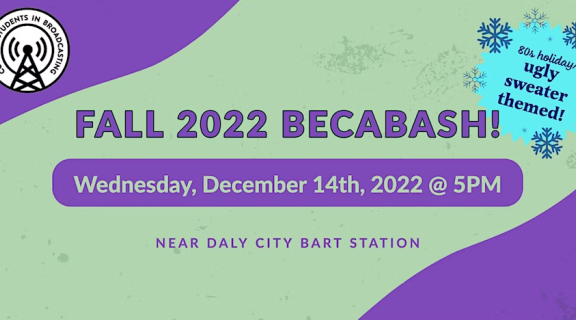 BECA BASH
Wednesday, December 14
Event Time
05:00 p.m. - 10:00 p.m.
Location
Address Given on Registration Confirmation Page
Contact Email
jmontez1@mail.sfsu.edu
Overview
Join CSB and other BECA students, faculty, and alumni to celebrate the end of the semester at BECA BASH!
BECA students, alumni, faculty, and friends! BECA BASH is on and you can now reserve free tickets to the event!
When registering for the event, you'll be given the option to kindly donate to CSB. Donated funds will support BECA Graduation 2023 and other CSB events. Donations are not required for entry. Everyone is welcome!
Drinks will be available for purchase (one free drink ticket is given to those who donate). 
Event Address: Near Daly City Bart Station (exact address given on confirmation page)
When: Wednesday, December 14th, 2022 at 5:00 p.m.
Theme: 80's Christmas/Ugly Sweater!
Please contact Jada (CSB Event Director) with any questions: jmontez1@mail.sfsu.edu or DM us on Instagram: @csbsfsu.
Register: https://www.eventbrite.com/e/beca-bash-fall-2022-tickets-484113455377