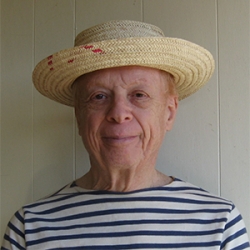 Arthur Berger
Emeritus Professor
Emphasis: Sociology, Cultural Studies, Social Media, Cultural Theory, Media, Popular Culture, Broadcast and Electronic Communication Arts, Digital Media, and Social Networking
Arthur Asa Berger is Professor Emeritus of Broadcast and Electronic Communication Arts at San Francisco State University, where he taught from 1965 to 2003.
He is the author of more than 130 articles and more than 70 books on media, popular culture, humor and tourism. His books have been translated into eight languages, including 13 books translated into Chinese and five books translated into Persian. He was elected to the University of Iowa School of Journalism and Mass Communication in 2009.
Among his recent books are:
Media Analytic Techniques (5th edition)
Seeing is Believing: An Introduction to Visual Communication (5th edition),
Media and Communication Research Methods (3rd edition),
Ads, Fads and Consumer Culture (4th edition),
What Objects Mean: An Introduction to Material Culture (2nd edition),
Theorizing Tourism: Analyzing Iconic Destinations, and Messages: An Introduction to Communication (in press).
He has been a Fulbright scholar in Italy (1963-64) and a Fulbright Senior Specialist in Germany for two weeks at Heinrich Heine University in Dusseldorf and a month at the University of Buenos Aires Argentina with lectures in other cities in recent years. He is tentatively scheduled to be a Fulbright Senior Specialist at Belarus State University in November, 2014.
More about Arthur: Arthur Asa Berger and the Literary Life | Jason Berger Paints Tavira (Arthur's brother)