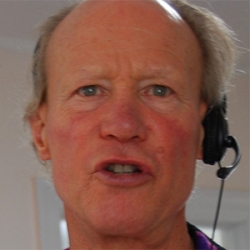 Val Sakovich
Emeritus Professor
Emphasis: Innovative Techniques in Sports Production for Television and the Web
Sakovich recently completed 42 years as faculty at San Francisco State University. During this time he served as acting director of Academic Technology and director of the Audio/Visual/Instructional Television Center, as well as associate director and production coordinator. At the same time he taught courses in the BECA Department, as well as Design and Industry and Instructional Technologies.
Sakovich received his doctorate from the University of Southern California in the Instructional Technology Department, where his emphasis was on Instructional Design.
While he taught Instructional Design and other coursework involving Mediated Instruction, his main emphasis was on Sports Broadcasting. Since the early 1980's, the BECA650 Sports Production Class has been producing cablecasts, and recently webstreams, of live SF State Gator Sports Events. All crew positions are filled by students in the class; director, play-by-play, color commentary, camera, audio, graphics, replays, etc. Also, on days that the class is not doing games, they are in the studio producing shows.
Many former BECA students are now in the Sports Production field and work for various teams, stations, networks, companies, and organizations in the Bay Area, the U.S., and Europe. The BECA Department has been very fortunate to have excellent relationships with alumni in positions that can benefit current students and their desire for a career in the media.
Sakovich is still involved in helping with BECA650 and would be amenable to discussing the sports media field with prospective students.
His research interests include innovative techniques in sports production, both for television and the web.