Students Receive One-on-One Jib Training from Professional Jib Operator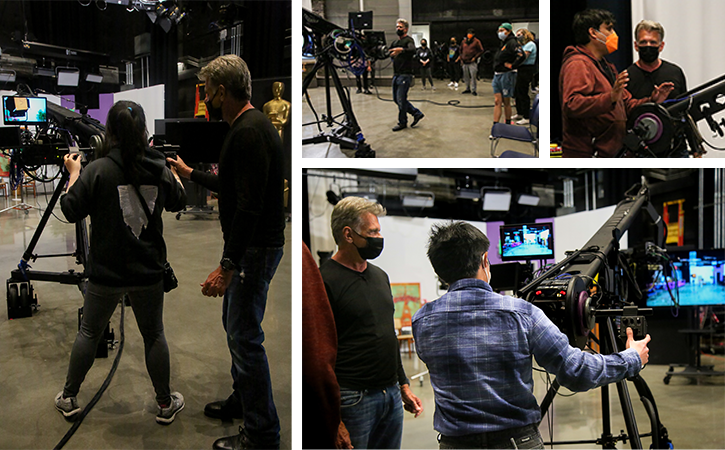 BECA students received one-on-one jib training from accomplished professional camera operator, Greg Acosta.
Greg Acosta's work primarily focuses on jib and Steadicam operation in a variety of environments including live, multi-camera, and single-camera productions. He has been working in the entertainment industry for more than thirty years.     
At the workshop, Greg started by emphasizing the importance of safe camera and jib operation, with an emphasis on using situational awareness to prevent accidents.
Students then received hands-on training with the jib through a variety of exercises, learning how to perform key movements and practicing to refine their skills.
For Kelly Duong, it was her first time working with a jib. She appreciated the opportunity to learn production skills outside of class and found Greg's guidance made operating the jib approachable.
"I very much like that it's hands-on. I feel like I learn a lot by hearing from Greg, his experience, and tips and tricks," Kelly said.
After the hands-on exercises, Greg sat down with students to discuss pathways into the industry and answer questions.
Greg explained to students what would be expected of them in entry-level production positions, and he shared tips on how to utilize those positions as opportunities to learn and develop additional skills while on the job.
Sebastian Jimenez is preparing to graduate and was able to resolve his doubts about whether or not he would be able to have a viable career in the industry.
"Hearing how opportunities are still there is very encouraging and hearing how he did it, I realized it's totally possible," Sebastian said, "The amount of possibilities that he has expressed to me to make it in this industry has just been refreshing to hear."
Greg purposefully structured his workshop to be part technical and part motivational.
"I wanted to give students ideas on how to get into the business and what to expect. It's scary out there and they need a little encouragement," Greg said, "It all depends on how much heart you put into it. If you have a lot of heart and you really want to do it, you'll get there."
The workshop was made possible by a grant from the CSU Entertainment Alliance.