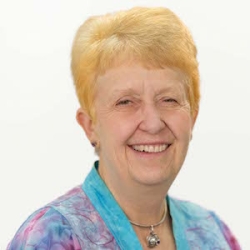 Betsy Blosser
Emeritus Professor
Emphasis: Media and Social Change
Email: bblosser@sfsu.edu
Betsy Blosser, Ph.D. focuses on giving students a unique production experience, taking them through a two-course series that begins by producing a video for a local nonprofit and then sends students overseas to do the same for a deserving NGO.
Betsy J. Blosser is a Professor in the Broadcast & Electronic Communication Arts (BECA) Department at San Francisco State University.
In 2001, she and a graduate student began a project in which video production students, through a two-course sequence, spend the spring semester working with a local, non-profit organization to produce a video to meet that organization's needs. Then, during the summer, they travel to another country to produce a video to meet the needs of a non-governmental organization (NGO) in that country.
Since 2001, Dr. Blosser and her students have made production trips to Peru, Brazil, Thailand, Guatemala, India, El Salvador, Guatemala, Ghana, Tanzania, Indonesia and Mexico.
Blosser, a fluent Spanish speaker, received her B.A. from the University of Michigan, her M.A. from Northeastern Illinois University, her C.A.S. from Harvard University, and her Ph.D. from Stanford University. She has studied at the University of Madrid, and has had Fulbright lectureships in Uruguay and Chile.
A beginning weaver, she is a member of the Black Sheep Guild. An avid knitter and a life-long seamstress, Betsy is currently taking classes in the Fashion Design Department at Cañada College to improve her skills.