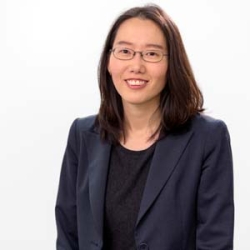 Jiyoung Cha
Associate Professor
Advisor: Media Management, New Media, and Audience Behavior Emphasis: Media Management, New Media, Audience Behavior
Phone: (415) 405-2621
Email: jycha@sfsu.edu
Location: Marcus Hall Building Room 315
Dr. Cha is on leave for the Fall 2023 semester.
Jiyoung Cha, Ph.D., is an associate professor in the Department of the Broadcast and Electronic Communication Arts at San Francisco State University. She develops and teaches courses on media management/economics, new media systems, research methods and media entrepreneurship.
Cha's research aims to understand the competitive dynamics of the media marketplace, how new media change audiences' media consumption patterns and the business principles of media firms, and why audiences adopt or reject new communication technologies. In recent years, she has explored adoption, business models, privacy and first mover advantages of social networking sites. Her recent research also delved into how and why consumers choose certain content and platforms in a multichannel and multiplatform environment.
Her research has appeared in peer-reviewed journals, including the Journal of Media Economics, the International Journal on Media Management, Journalism and Mass Communication Quarterly, Telematics and Informatics, the Journal of Electronic Commerce Research, and the Journal of Advertising Research among others. Cha received best research paper awards from the Association of Education in Journalism and Mass Communication (AEJMC) and the Broadcast Education Association (BEA).
Jiyoung Cha earned her M.A. in Television, Radio, and Film from Syracuse University and Ph.D. in Mass Communication with a minor in Marketing from the University of Florida.