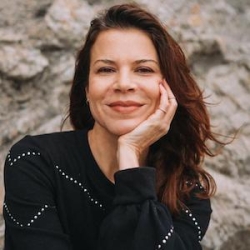 Cintya Chaves
Lecturer Faculty
Emphasis: Voice Performance and Media Theory
Email: cdias1@sfsu.edu
Location: Marcus Hall 331
Office Hours:
Wed:
2:00 p.m. - 3:00 p.m.
Zoom
Additional office hours available by appointment. Email to schedule an appointment.
Office Hours Zoom:
Meeting ID: 837 0297 4556
Passcode: 136863
Cintya Chaves has had a long career as an actress and producer in Brazil, working on stage and screen with material from authors such as Eugene O'Neill, Anton Chekhov, and William Shakespeare, among others. In 2017, Cintya came to San Francisco to work as a voice recording artist for, among others, one of the largest technology companies in the world. She also records stories in Portuguese for one of the most popular mindfulness apps, Calm, which has more than 100 million subscribers. Cintya holds a Master of Arts in Broadcast and Electronic Communication Arts from SF State, as well as a B.A. in Performing Arts from the University of São Paulo, (Escola de Arte Dramática) and a B.A. in Fine Arts from the Fundação Armando Álvares Penteado (FAAP). She teaches courses in voice-over performance, media aesthetics, and digital media, at SF State and colleges in Brazil such as the Célia Helena Center of Arts and Education (Célia Helena Centro de Artes e Educação). Currently, she is studying Vocology at NYU, which is a young field that integrates the medical, scientific, and artistic aspects of voice habilitation. In 2021 she opened Luavo, her own voice-over business in Marin, CA. When she is not otherwise working, you can find her in her home studio producing content for her website. Above all, Cintya loves teaching and sharing voice and body awareness knowledge with students so they can find their own voices in such a competitive industry.